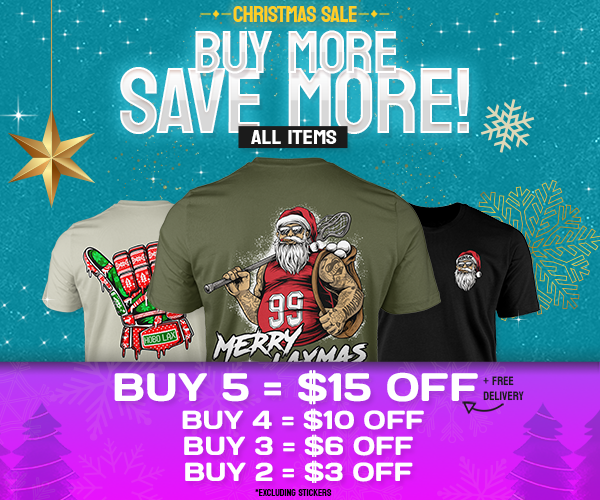 Introducing the Hobo Lax limited edition collection, all die-hard lacrosse fans out there surely won't want to miss out on these! Our exclusive prints feature clothing and artwork that embodies the sport's culture and spirit in a casual and trendy way.
Consisting of men's and women's apparel for young and adult lacrosse enthusiasts, you can rock out these clothes whether you're on or off the field! Our designs are vibrant and bold which will make you proudly own them and show them off to your friends and family.
Keep in mind that our limited editions run out fast so you better check it out now to get a chance to own your preferred design and add them to your wardrobe collection! With its unique designs and styles, our collection is sure to get every fan talking – so don't miss out on this chance to show your love for the sport in style!
Ever since our launch, the Hobo Lax team strives hard for the best customer experience by offering only top-of-the-line products that are sure to turn heads. We understand how important it is for players and fans alike to have something that will showcase your passion for lacrosse which is why we take pride in creating designs specifically for that.
Our various collection includes everything from tees and hoodies to canvas prints and stickers – all designed with comfort and style in mind. So why choose Hobo Lax over other brands?
&nbsp
See what our customers have said about their experience with our products:
We're sure you love lacrosse as much as we do. Which is why we end up wearing lacrosse clothes 99% of the time off the field. However, it was impossible for us to find designs that suit our style and personality. This is why we have come up with a more artistic and unique touch to Lacrosse shirts that we know Lax brothers and sisters will love. Check out our collections, you'll understand what we mean.
&nbsp
We pride ourselves on our selection of limited-edition lacrosse clothing, here you will find original designs that you won't find anywhere else in the world. We have combined our love for the game with street fashion by implementing highly creative designs tailored specifically to Lax players and fans.
&nbsp
We're not stopping at just t-shirts, we also have lacrosse hoodies, lacrosse sweatshirts, and youth sizes for the next generation of Lax pros!
Looking for lacrosse clothes with one-of-a-kind designs but don't want to see them everywhere else? That's exactly what you'll find here.
When it's about lacrosse clothing, we're always hard at work to ensure that all our customers get the best selection of prints and apparel. We have partnered up with selected manufacturers to ensure that our quality is top cheddar.
&nbsp
Some of our select pieces are limited edition, meaning we only print 99 of that designs on that specific piece of clothing (youth sizes included!) It's extremely rare that you'll find someone else rocking the same Hobo Lax shirt!
Your top destination for premium quality lacrosse apparel, Hobo Lax is for everyone who's passionate about this sport. Whether you're looking for casual tees or hoodies to protect you from the cold, we have it all! Plus, our unique designs are trendy and relatable, making them a must-have to your closet collection.
&nbsp
Not only will its superior quality materials make you look good on and off the field, but is also guaranteed to be comfortable and durable at the same time. We're aware of how beloved lacrosse is around the world that's why we've come up with a range of designs that will allow you to show your passion and pride anywhere and anytime.
Combining superior comfort with unique designs, our apparel's styles are inspired by the game that will definitely make you stand out from the crowd. Designed to last for a long time, our collections are sure to provide you with maximum flexibility, breathability, and adequate protection from any elements.
So if you're looking for top-quality lax apparel that combines creativity and freshness then look no further than Hobo Lax! With our wide range of selections, we have something for every taste and budget that will make surely make you look great at all times!
Are you looking for lacrosse-inspired apparel that is comfortable and fits just right? Do you want to be able to show off your love and pride for the sport with stylish designs? Hobo Lax offers the perfect solution to all your lacrosse apparel needs!
&nbsp
Whether you're tall or short, wide or skinny, our apparel will give you the perfect fit! Available in various sizes, our collections are made for youth and adults so you can shop with no hassle knowing that you can wear them comfortably.
&nbsp
If you're unsure about what size to fit you perfectly, you don't have to worry because our items also come with sizing charts to make sure you purchase the right shirt. Whether you're planning to wear them during practice or just casually, Hobo Lax is sure to give you the utmost comfort as you go about your day.
Custom Lacrosse Clothing Team Gear
Are you looking for a way to upgrade your team's image and lacrosse gear? Stand out from the competition with Hobo Lax custom lacrosse gear just for your team! Our artists can create a unique logo that will best reflect the fighting spirit of your team and print them on your preferred clothing, no matter the quantity or complexity. 
Whether you plan to use it on practice or game day, there's no denying that having personalized and uniformed apparel can boost your team's morale. Having that in mind, we offer a wide range of colors and styles so that you can easily find something that reflects your team's identity. Plus, our apparel is made out of durable and comfortable materials designed to last through even the toughest games and practices. 
If you have any questions you might have along the way during the design process, you can rely on our team to answer any of your queries or concerns. We will also work closely with you throughout the process to make sure your team looks great on the field – from what colors and unique designs to pick to your team's logo that you'll definitely be proud to show off.
We'll take your ideas and transform them into the best design, so what are you waiting for? Get in touch today so we can get started!
It's easy to fall in love with lacrosse that's why we understand the demand for more lacrosse apparel for young people. We made sure to include youth lacrosse clothing in our collection since it's better to spur their love for the sport while they're young, isn't it? 
Perfect for either a casual day or practice, Hobo Lax apparel will definitely help you stand out from the crowd as you rock this groovy clothing anytime and anywhere. With our t-shirts and hoodies, our designs feature vibrant colors along with awesome graphics suitable for all our young lacrosse enthusiasts out there. 
Plus, our clothes are made from high-quality materials that can last even the toughest practice and withstand any weather conditions, giving your kids something to wear throughout the season. 
So what are you waiting for? Check out our youth lacrosse clothing collection and put a huge smile on your kid's face while stocks lasts!
Lacrosse-Themed Accessories
Your love for lacrosse shouldn't have to end with wearing our Hobo Lax apparel. Introducing our lacrosse accessories, you can now show your admiration for the sport wherever and whenever you want! 
Taking great care in selecting only the highest quality designs for our collections, Hobo Lax aims to serve you with something timeless and awesome that you can appreciate for years to come. From artwork to stickers, you can choose your favorite items with our unique lax designs and show off your love for the game to your family and friends. 
If you want to take your love of the game one step further, we also have a wide range of unique wall art and posters featuring our cool designs that will surely add some life and color to any space. Invite your friends over and proudly show them your sick lacrosse collection!
Want to Win a Free Hobo Lax T-shirt?
@hobolax
Want to Win a Free Hobo Lax T-shirt?
@hobolax
Tag us on Instagram with you wall balling in our gear to be in with a chance!